---
"Nothing is as constant as change."
And what to make of that now?
---
The other day, my dear colleague Susanne Eckel drew my attention to an article about how to change the mindset of an organisation that appeared in the German magazine "Neue Narrative". The article is detailed, good, and definitely worth reading.
But even in this good article, there are occasional flashes of the unholy machine-like worldview that so often obscures our view of the important things.
For example, what REALLY matters? Is it the results alone? What do you get in the end? Or is it rather about HOW we do things? Now, is our aim the goal? Or is it rather the journey? Or is it both?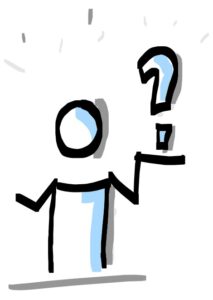 In any case, the article made me think, which is why I am grateful to Susanne for the hint. And of course to the author of the article, Sebastian Klein.
So what IS my or our task as team developers, organizational consultants, agile coaches, and change agents? What do we have to focus on? Is it really only on the result, e.g. a changed mindset? Of a WHOLE organisation?
Phew!
To people who focus firmly on results, a change project is always kind of hard. That means: for all of us. Because whether we like it or not: We all live in a performance world, with everything that goes with it. For example, we are drilled from an early age that it is all about results and that they are to be found (almost) EXCLUSIVELY in work outputs. ("You did a good job", "What counts is the end result").
So even in change projects, we focus on the desired RESULT, the changed mindset ahead of us, because we think that with the changed mindset we have accomplished our goals. And that is frustrating. BECAUSE we are not yet there, we can't be there. So we know: It will be a long, hard struggle. Everyone needs to understand again that a changed mindset is needed, what that means, and then put it into practice…!
However, the changed mindset is secondary (for the time being).

Much more important ESSENTIAL is to focus on your OWN behavior in the CURRENT moment. Why is this?
The reason sounds a bit banal, but is actually plausible: ESPECIALLY in change projects, value creation is realized along the way to the desired result, e.g. a changed mindset. Of course, it is the end result that counts. But it's the JOURNEY who will get us there. And that is why it is particularly important to pay attention to this:
Do the clients and change agents focus more on the path or more on the result?

This tells us how well and how likely the change project will succeed.