---
"

Pay

Attention

to

W

hat

Y

ou

Pay

Attention

T

o"
---
Yesterday I received "Out on the Wire", a book by Jessica Abel, which I bought relatively spontaneously after coming across her storytelling podcast of the same name..
Over the past year, I had been doing a lot of research on writing and storytelling. Still, I felt I could learn more. Especially about how to tell a GOOD story. After all, storytelling and writing are two different things, which I learned the hard way.
Actually, I didn't know what to expect. So I had no particular expectations of the book. But when I held it in my hands, I was very disappointed.
Jessica Abel is a comic book author. And her book is a graphic novel, which I wasn't expecting. I finished comic reading over thirty years ago. (Sad. I know.) I am NOT into graphic novels at all. A poor buy. Bollocks.
But my curiosity was bigger than my frustration. So I flicked through it a bit listlessly but then started to read it anyway. To be on the safe side, I kept the TV remote control close by. So that I could quickly change the medium if I was still in a bad mood. But it turned out differently.
I couldn't put the book down. Because it turned out to be
A really exciting book about storytelling.
It has a lot to do with the combination of visuals and text, which just works well for me.
(Why that surprises me, I don't really know myself. After all, I like to draw myself. And I really like to use drawings in my work for a good reason. Information can be easily taken this way.)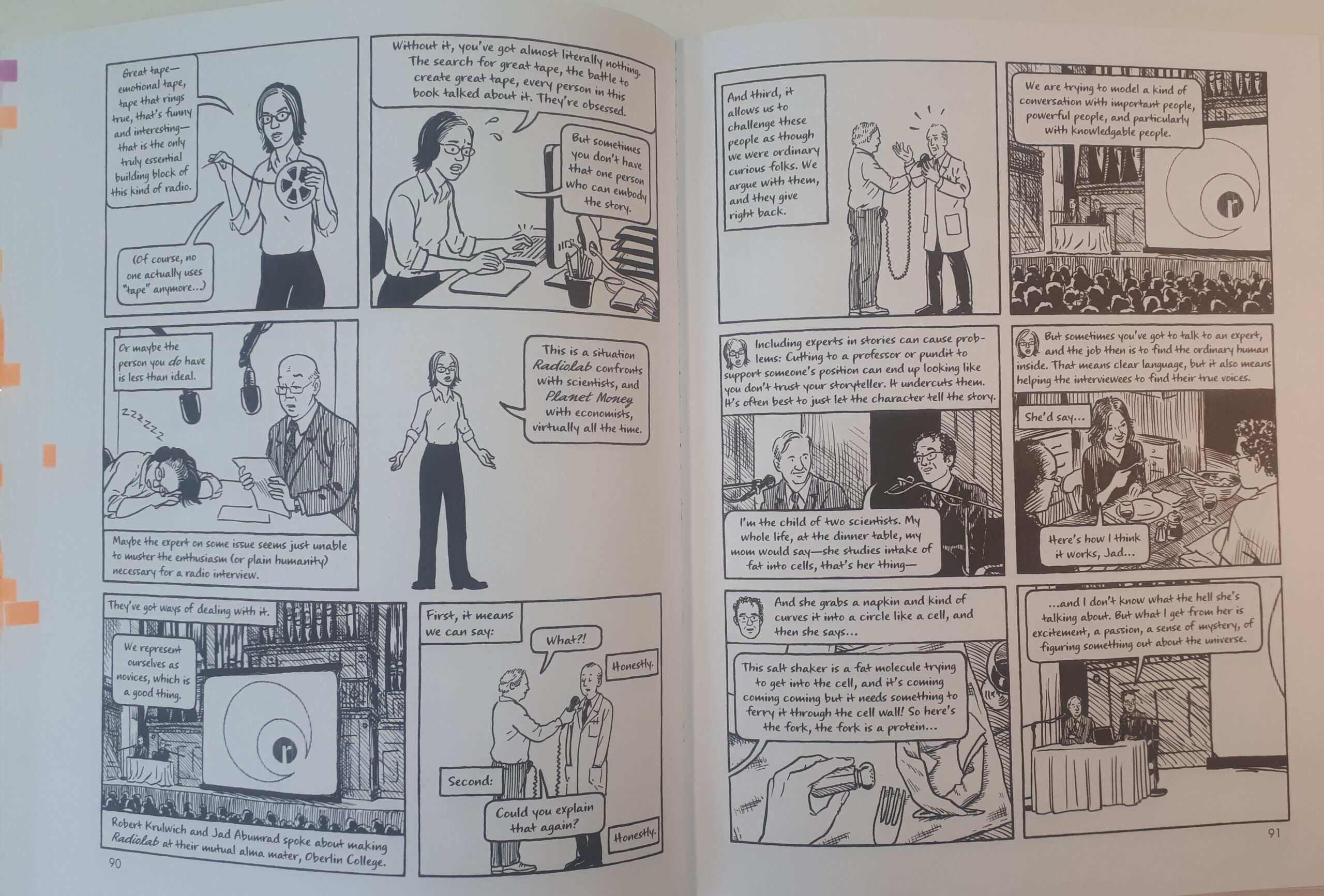 First and foremost, the content of Jessica Abel's book is great.
Jessica Abel tells – by drawing, of course – the story of her own search for the formula for the success of good (radio) stories. Along the way, she interviews all the radio producers in the USA, who also willingly give her advice. This is an exciting, instructive, and authentic story (as you can hear in the podcast). With many supporting details, e.g. drawn (!) audio examples.
Radio and radio production plays a very important role. In essence, however, Jessica Abel explains vividly what makes a good story and how to develop it:
How do you track down a story?
How do you get people to tell their stories in a way that shows them to their best advantage?
What distinguishes a story from a story idea or topic?
How do you develop a story idea into a compelling, powerful story that makes a difference and that people love to hear?
What makes a good story, what does it take to get there, and what all needs to be done along the way?
Without wanting to spoil – we'll certainly talk about it in more detail here: A lot. Above all: practise.
Wow, that's a good book!
---
What else comes to my mind
---
All Links at a glance
---