---
Have you been told to work in an Agile way? Maybe you even want to do it yourself? Now you have a couple of questions? You are not alone. I, for instance, have been asked recently:
---
How can Agile help reduce my workload to allow more time for creative work?
---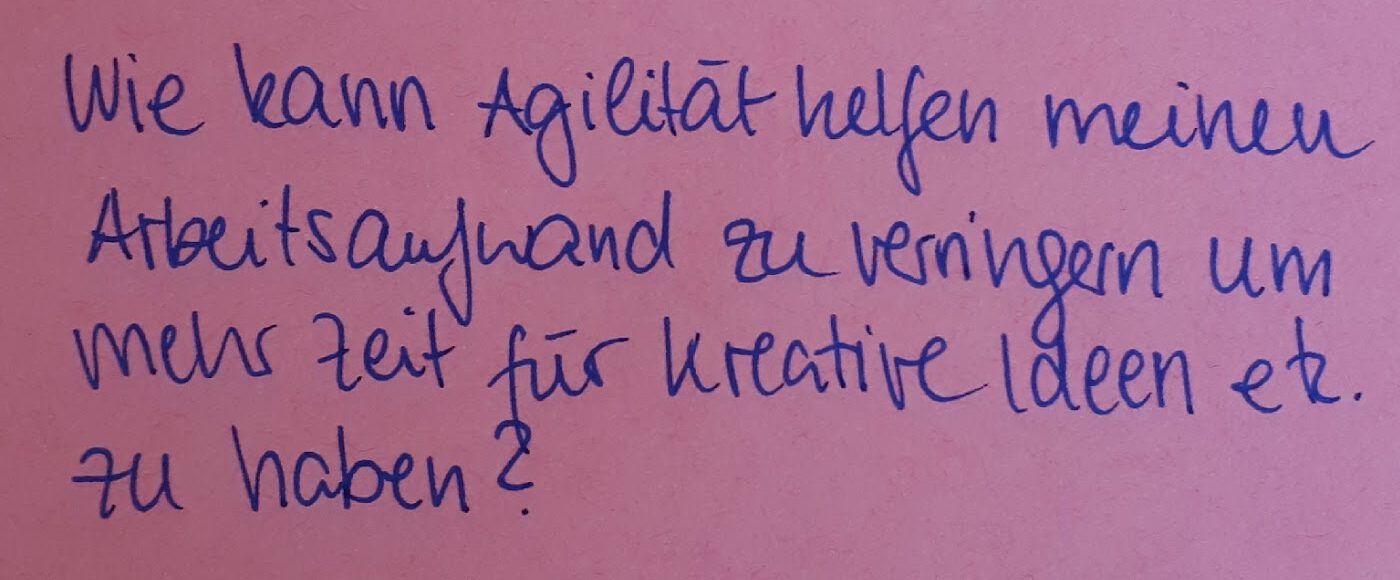 ---
In Agile working, every minute (!) we are challenged to ask ourselves what really is important to do. In terms of our longer-term goals and: NOW. In the present moment. That's exactly what we'll do. Meaning, of course, that we drop everything unimportant.
"Important" can mean many things. Different people have different views and interests on this. But because Agile is very much influenced by the ideas of lean management, the Agile answer is usually:
What is important is what serves to create ( long-term) value.
Value is created primarily when customers pay money for a product or solution. This means that it is the customers or users who decide on value creation. Only THEN other stakeholders are been taken into account. (Even if, unfortunately, it is often practised the other way round.)
If you've been hired to produce creative ideas, it's because that's exactly what you're supposed to do to generate value (=bring in money). If you don't deliver ideas or don't have the prerequisites that you can deliver, this (business) goal is in danger. And this: Without any need.
So this is absurd. The fact that such situations are a reality in many many many organisations does not change this.
What is important in the sense of Lean or Agile – that is, in the sense of real value creation, i.e. in order to earn money – is that you have a suitable working environment. Free from everything that hinders you. You need creative space.
I really don't like "Have to". In this case, however, it is absolutely necessary that you set up appropriate structures in and with your team – that means also with the leader and the management. Otherwise, you will not be able to do your job to your fullest satisfaction. Neither to your own, nor your company's, nor – most importantly – your customers' satisfaction!
Giving yourself appropriate structures can mean many things. Virtually all agile working frameworks, for example, consistently do without meetings that are not absolutely necessary (read: meetings that cost unnecessary (!) time).
---
Costs of Switching and delay are the number 1 obstacle to success.
Switching costs are, for example, the way from one meeting to the next or the time it takes you to think your way back from one topic to the next. Switching is a luxury we will be able to afford less and less. Because other, non-switching competitors are simply faster and more profitable.